Tag Archive: Pam Firth
August 16, 2018 10:41 am
The Herts Advertiser, published 30 August 2018 Read the full article 
August 10, 2018 10:48 am
Local charity, The Counselling Foundation's longest serving member of staff, Pam Firth, has been selected as a finalist in two of this year's 2018 Herts Advertiser Community Awards finalists. Pam, who has worked at the Foundation for 20 years, is a finalist for Lifetime Achievement and Service to the Community at the awards to be announced in St Albans next...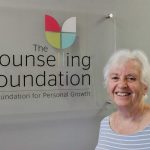 August 10, 2018 9:56 am
Celebrating 20 years at the Foundation Pam Firth has been a lively, loved and devoted member of The Counselling Foundation's training team in St Albans for over 20 years. Pam's main role is as Programme Tutor, in charge of all students and tutors for the first year of professional counsellor training at the Foundation. She also teaches some classes, bringing...