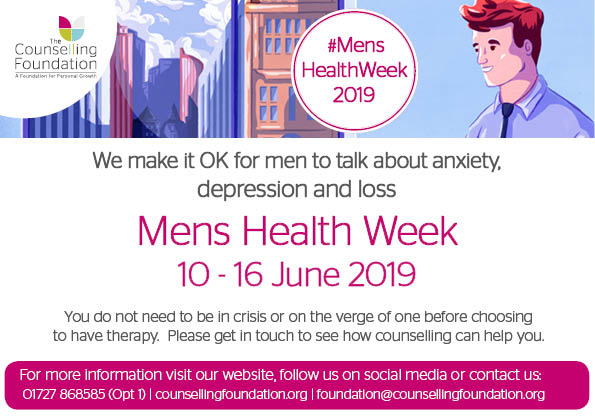 June 13, 2019 12:08 pm
Mens Health Week | 10 – 16 June 2019
This week is Men's Health Week 2019.
The week aims to raise awareness of all things related to men's health including male mental health.
We encourage the men in our lives look out for themselves, both physically and mentally.  Empowering men that it's ok to 'man up and speak up', whether it's to make that appointment to see a GP, a counsellor or just talk to friends and family.  Help is available.
Change needs to happen to improve these statistics:-
Men are less likely to access psychological therapies than women. Only 36% of referrals to IAPT (Increasing Access to Psychological Therapies) are men.
Inactive men are 60% more likely to suffer from depression than those who are active.
Suicide is the single most common cause of death in men under 45 in the UK.
87% of rough sleepers are men (Reference: Crisis).
Relationship breakdowns are more likely to lead men, rather than women, to suicide.
Men are much less likely than women to have a positive view of counselling or therapy, and when they do use these services, it is at the point of crisis.
Categorised in: #mensmentalhealthweek, 'Let's Talk', affordable counselling, anxiety, bereavement, bereavement counselling, charitable counselling, charity, counselling, counselling training, counsellor training, Couples Counselling, depression, long term counselling, mental health, Mental Health Services