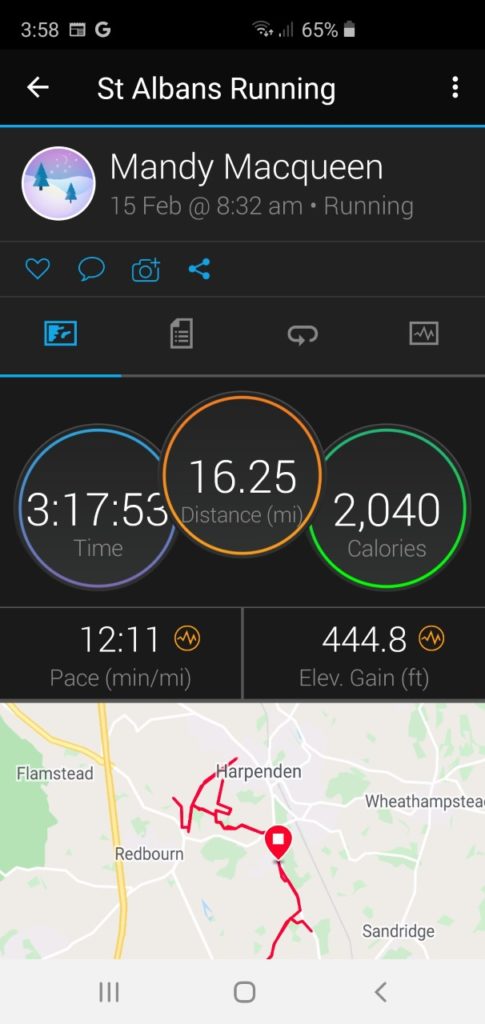 February 17, 2020 2:38 pm
I'm running to raise funds to help more people share what's worrying them with a trained counsellor.  One in four people suffer from a range of mental health issues, including anxiety, depression, bereavement or life changing events.  The Foundation offer subsidised counselling that can help to improve family life, reduce isolation and encourage people back into paid or volunteering work.
Ok so despite Storm Denis I did my long  run on Saturday. Was out at 8.30am and seemed to miss the worst of it until last few miles.
Did 3 runs this week with a longest run of 16.25 miles done and highest number in a week 25.3 miles.
Yipee !
Tried a new product to fuel me on my long run, that let's say it didn't work. But the point is to try things out on your long runs now to find what works best.
My hips and knee were pretty good after my long run, think the body is getting used to the miles.
So in summary….a good week.
Categorised in: affordable counselling, anxiety, charitable counselling, counselling, counselling training, counsellor training, depression, mental health, Mental Health Services