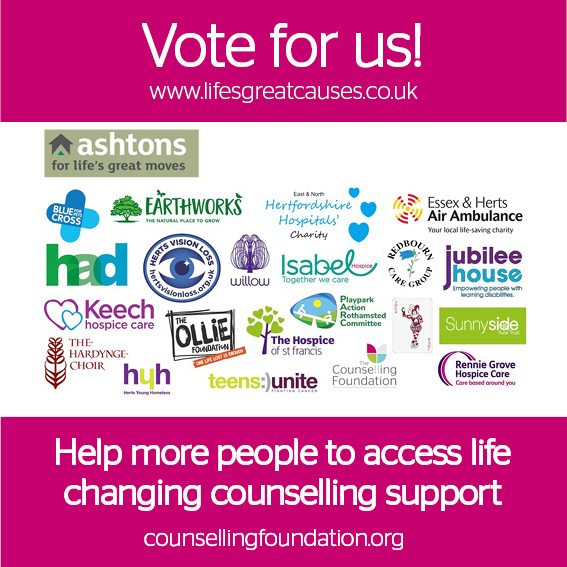 December 16, 2019 9:47 am
Ashtons for Life Great Causes Charity Fundraiser
The Foundation are delighted to have made it to the shortlist of 20 charities out of 100 nominations to be in with a chance of winning a proportion of the £10,000 that Harpenden based Ashtons Estate Agents fundraise throughout the year for their Life's Great Causes campaign.
There will be an online pole which opens on 3 January 2020. The 'live' poll will run for 4 weeks to allow everyone time for us to spread the word and gain votes to support our counselling charity.  For more information click here:
By voting for the Foundation you will be helping the Foundation's mission to ensure long term counselling is available to support those who are on low incomes in Hertfordshire.
One in four people suffer from a range of mental health issues, including anxiety, depression, bereavement or life changing events.  Counselling can help to improve family life, reduce isolation and courage people back into paid or volunteering work.
Our counselling sessions cost over £45 each to deliver – but most of our clients cannot afford that.  We do not receive government funding and work all year to support as many people as we can.
Categorised in: affordable counselling, anxiety, charitable counselling, counselling, counselling training, counsellor training, depression, mental health, Mental Health Services